Dream Expert Lauri Loewenberg has been featured on
Dr. Oz, The Katie Couric Show, The Steve Harvey Show, The View, Good Morning America, The Today Show, the Bethenny Show, Anderson Cooper 360, Fox News, OVER 10,000+ radio interviews, Cosmo, Glamour, Esquire, Maxim, Woman's Day and much much more!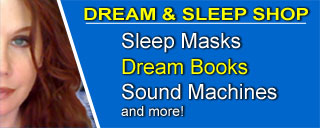 A Message from Dream Expert Lauri Loewenberg:
I created this site so you could quickly find out what your dream means using my dream dictionary of over 7,000 dream symbol definitions. Enter in one dream symbol or your entire dream to instantly interpret the meaning of your dream. I wrote every word so it's like having a virtual dream expert right next to you interpreting your dream for you.
Bookmark this site now so when you have another dream that makes you wonder or worry you can come back and quickly find out what your dream means.
Trust me, when you understand what your dream means you gain a powerful self help tool that will guide you in all aspects of your life, from personal and work relationships decisions to ideas and inspiration to achieve your goals and wildest dreams.