Cracking the Dream Code
---
[sociallocker]
Start understanding every single part of your dream,
every single morning!!
My interactive dream-decoding, journaling system, when followed, will uncover the vital messages, warnings and creative inspiration that your dreams hold for you on a daily basis.
A fat 321 pages, spiral bound for easier journaling, there's nothing out there like this!
You NEED This Book by Your Bedside.
A Step by Step How-To
Remember, understand, and control your dreams. PLUS my "Dream on it" technique where you learn how to ask your dreams for specific solutions or advice.
Day & Dream Journal
Get powerful results with my daily "Dream Decoding" technique where I show you how to easily make those crucial connections between your day and the imagery in your dream. Watch as your dream magically reveals its meaning to you!
HUGE Dream Dictionary
Over 1000 of the most common dream symbols defined in great detail. I don't just define I ask you questions that will clarify what that symbol means in your dream.
After reading and using this book, you'll realize that dreaming is just as important as waking; you'll be able to connect to the part of your self that knows what is best for you.
Includes the BIGGEST most comprehensive dream dictionary of all my books.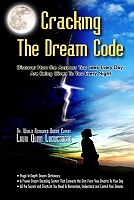 FREE BONUS! Dreaming 101
A Crash Course in Understanding Your Dreams and Reaping the Endless Benefits
This is over an hour of EXTREMELY POWERFUL information that YOU NEED TO KNOW and will have you remembering more of your dreams and understanding them like never before.
Remember, when you can understand your dreams you have the ability to CHANGE YOUR LIFE!
Here's what you'll hear me explain to you in high quality audio.
How to easily figure out the symbols in your dreams
What you MUST DO to remember your dreams (you average about 5 per night)
The 3 MUST KNOW rules to understanding your dreams
What the 3 most common dreams mean ( Falling Adultery Celebrities)
How to program yourself to dream about what or whom you want
How to figure out numbers in your dreams
Why we have recurring dreams
Recent Reviews
I use your book in my practice.
This is an amazing book. I use it nearly every day with my psychotherapy clients. It's a wonderful adjunct tool.
– Dr. Jimmy Clifton, Millsburg, IN
Just wanted to thank you.
I have been reading your book and when I had a dream that otherwise would have thrown me for a loop, it gave me insight as to how to act next in a business situation that could actually save many jobs within my company. Thanks Lauri!
– Victoria, Las Vegas
I LOVE your book Cracking The Dream Code…
I refer to it almost every morning! Even with as long as I have had it I am STILL amazed by the accuracy!
– Mindy Direen, Salt Lake City, UT
I love the book already.
I was in the line for my boys school and was reading the whole way. I do not suggest anyone else to try this. I almost had a few fender benders! Anyway I just love it!
– Kimberly, Myrtle Beach, SC
I just figured out my Prince dream!
I used your book…it makes sense and was sooooooooooooooo easy! Thank you!
– Stacy Cole, morning show host WIFC, Wausau, WI
I am getting many Aha! moments from this book
My family now comes to me to find out about their dreams!
– Lisa, Picayune, MS
Wow, what an amazing book so full of information!
I will def be keeping this one on my nightstand and refer to it often!
– Kristi Roach, Angola, IN
Thanks to being able to figure out my dream with the help of your book.
I was able to save a very important relationship. So I just wanted to say thanks.
– Ellie, Miami, FL
I have to say, it's a pretty amazing thing when you can figure out your dreams!
Your book makes it easy. Thank you!
– Michelle, Richmond, VA
Your books have had a substantial impact in my life.
I just wanted to say that the few dreams I have had that I have interpreted with your books have had substantial impact in my life. I don't know what I would do without them.
– Becky, Ocala, FL
google-site-verification: googlea3109ae855294cfd.html